Publications
Pepper, Jen, ART SPIEL.org, "Shari Urquhart: Selections from the Fuzzy Museum & Other Warm Worlds" MAR 8, 2021, digital art journal

Fritsch, John & Jen Pepper, TWO COATS OF PAINT.com, digital art journal "2020s Grim Atmosphere of Loss: Shari Urquhart and Others" DEC 31, 2020
https://www.twocoatsofpaint.com/2020/12/2020s-grim-atmosphere-of-loss.html
---
2021 news
CATALOGUE PUBLICATION
Stone Canoe 15
A Journal of Arts, Literature and Social Commentary
Number 15. Downtown Writers Center, Syracuse, NY MAR 2021
Illustrated ink drawing 'Selkirk Grid' 2019
---
2020 news
Vermont Carving Studio, granted Independent artist in residence, West Rutland . VT AUG 2020

Publication Review:
Hill, Kate, "Artists Selected for Made in NY Juried exhibition," Eagle Newspapers, NY, JUL 27 2020, illustrated https://eaglenewsonline.com/things-to-do/arts/2020/07/27/local-artists-selected-for-made-in-ny-juried-exhibition/
---
2021 news
Granted sabbatical leave SP 2021

Invited artist in residence
MAR > Kunstnarhuset Messen
Ålvik, NORWAY
---
2021 news
Granted sabbatical leave SP 2021

Invited artist in residence

JUL > Icelandic Textile Centre Residency
Textilsetur.residency.is


Blönduós, Northwest coast, Iceland


Research and work on TC2 digital loom (designed in Norway) that has the ability to

create designs normally required by a Jacquard loom. Shaft weaves have the ability to change the number of shafts, threadings and weave structures instantly. The TC2 has a weaving width of 43 inches and is equipped with 6 modules and 1320 warp threads, 12/cm or 30 epi.

The TC2 loom and its computer is housed in a live/work studio over looking the Blandu River.
---
2020 news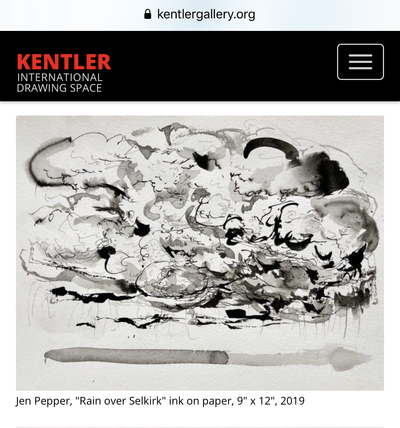 Clouds over Selkirk II, ink on paper 2019
On view Kentler International Drawing Space, Brooklyn NY
SEP 12 - OCT 10 2020
---
2020 news
Publication:
Stone Canoe 14
A Journal of Arts, Literature and Social Commentary
Number 14, Downtown Writers Center, Syracuse, NY 2020, illustrated
Icelandic photographs p. 194+195 ISBN 978-0-9963431-4-5

---
"Visual Artist Jen Pepper Molds & Shapes Language"
Profile piece . Text by Katherine Rushworth
photos by Michelle Gabel, Central New York Magazine, March/April 2011, illus. p.139-148
© 2011 The Post-Standard. All rights reserved. Used with permission of The Post-Standard, Syracuse, New York
---